Let me share two principles that help me write consistently and be abundant: write everything down and keep it simple. Let's look at them closer.
Write everything down. It's a fundamental principle of my writing process. I guess nothing gave such a boost to my writing as building a habit of taking notes. There are three reasons for doing that:
Taking notes frees up the space for new ideas in your head. Since I'd begun writing down all the ideas that crossed my mind, the more new thoughts started coming in. My wife often observe me rushing to my desk from the bed to write down the idea that arose in my head before sleep.
Writing ideas down helps to structure the knowledge and experience you've gained. Writing and deconstructing things I've learned was the easiest way to understand them much deeper and turn them into simple but efficient management principles. No video or audio can do so. Writing is the only creative process that implies analysis.
Writing is the fastest and cheapest way to share your knowledge with others. Videos and podcasts require many additional skills and postproduction, while writing doesn't take much time and energy to convey a message. Also reading is a natural way to get the idea, while a video or a podcast doesn't allow you to skip a part of it without losing the context or some important details.
Keep it simple. I'm talking about note-taking, of course. I know that some of you may have a tendency to hunt for a new super powerful all-in-one perfect application that would empower you to start taking notes. I've been down that road. That's a self-deception.
Dump this idea. Don't wait for the perfect tool. It won't make a difference to the world, but your writing may.
You already have a note app on your phone. It already has hashtags, folders, headings, bullet points, etc. You don't need a list of unique features to make a grocery list, same goes for ideas. All you need is to start writing them down.
The simpler your note-taking process is, the better. I use standard Notes by Apple to jot down my thoughts. It's enough to capture the idea that came to me and make the first draft so I could forget about it and move on. Any app that has autosave, folders, hashtags, and cloud sync will work.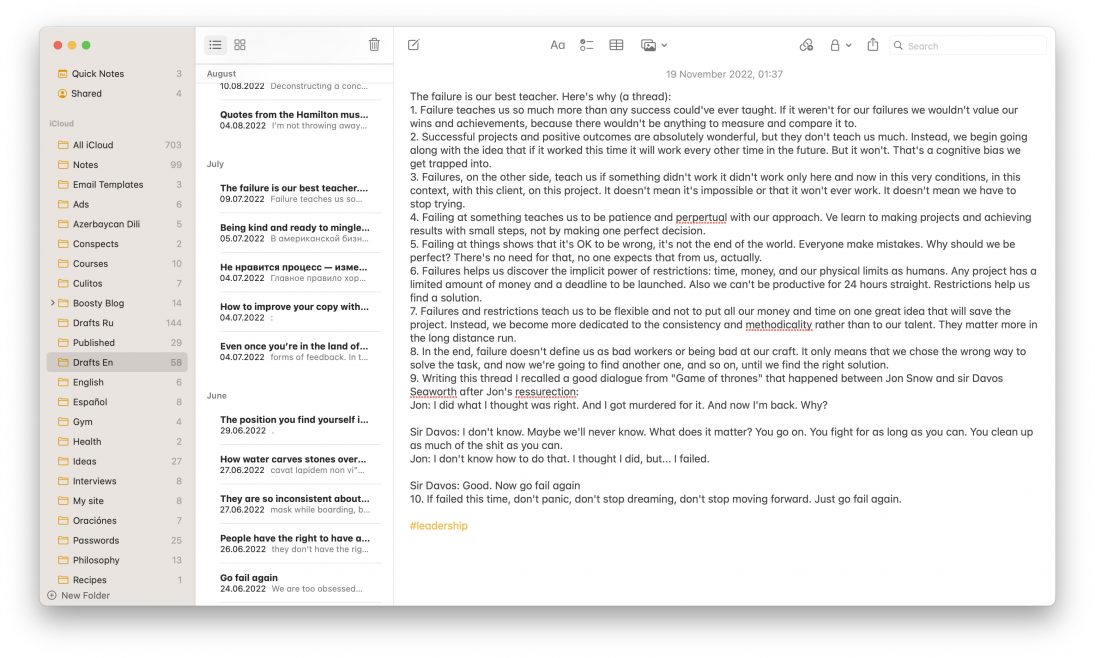 To sum up:
Write down all ideas that cross your mind
Take notes so you could forget and get back later to edit them
Keep your note-taking system simple
Use a standard app that is aimed at getting the job done
Use hashtags for topics and folders for projects
The next time you're going to write something on social media, open you notes, pick one topic and simply edit this. No need to write from scratch anymore, you will always have a list of ideas to go with.